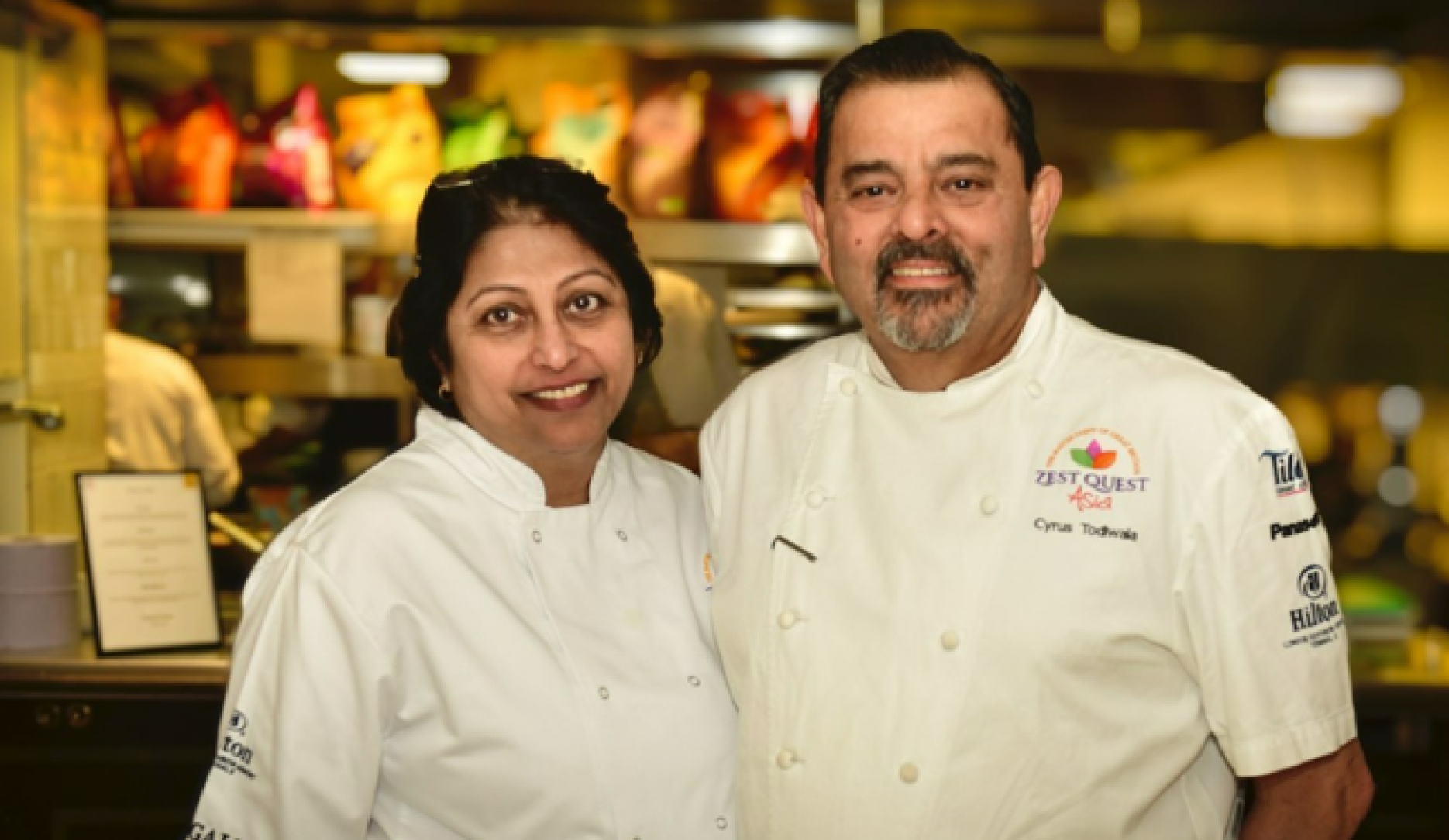 13th October 2022
Cyrus & Pervin Todiwala launch Zest Quest Asia 2023
Founders Cyrus and Pervin Todiwala have announced the official launch of Zest Quest Asia 2023, which is designed to encourage students to strive for excellence in the knowledge, understanding and preparation of Asian food.
Now on its ninth year, the competition is open to all full-time catering students with permanent residency in the UK. There are no age limits, so that mature students, provided they meet the criteria, can take part.
Zest Quest Asia is a team competition whereby colleges field three students supported by their lecturer. Finalists will go forward to a live cook off-to be held at the Hilton London Heathrow Terminal 5 on Friday 17th February 2023 and the winners will be announced at a Gala Dinner that evening.
Cyrus Todiwala said: "Zest Quest Asia is a substantive competition – resources are poured into making sure students have as much support as possible even before the competition, such as the tutorials and masterclasses provided by our food sponsors. In fact, students gain the most points from their ability to demonstrate their knowledge and understanding of the cuisine."
The grand prize is a cultural and educational trip to a secret Asian destination only revealed on the night. Since the launch of the competition, Zest Quest Asia champions have travelled to India, Japan, Sri Lanka, Thailand, Vietnam and the Philippines.
There will also be a number of additional prizes, such as a voyage of discovery to Italy for the team demonstrating the Best Use of Rice, sponsored by Tilda.
Steve Munkley, Zest Quest Asia chairman of judges, added: "It's not a matter of simply cooking, although that is a challenge in itself, but it's being able to show an appreciation of the culture behind the chosen Asian cuisine. But then the prizes are sensational. I don't know of many student competitions that are as demanding and rewarding. Zest Quest Asia motivates our industry's future to aim high."
The deadline for submission of entries to Zest Quest Asia is Friday, 16th December 2022. Finalists will be announced on Wednesday, 4th January 2023.
For more information on how to enter, please contact Cora Strachan at [email protected]. Information will also be made available at www.zestquestasia.org.