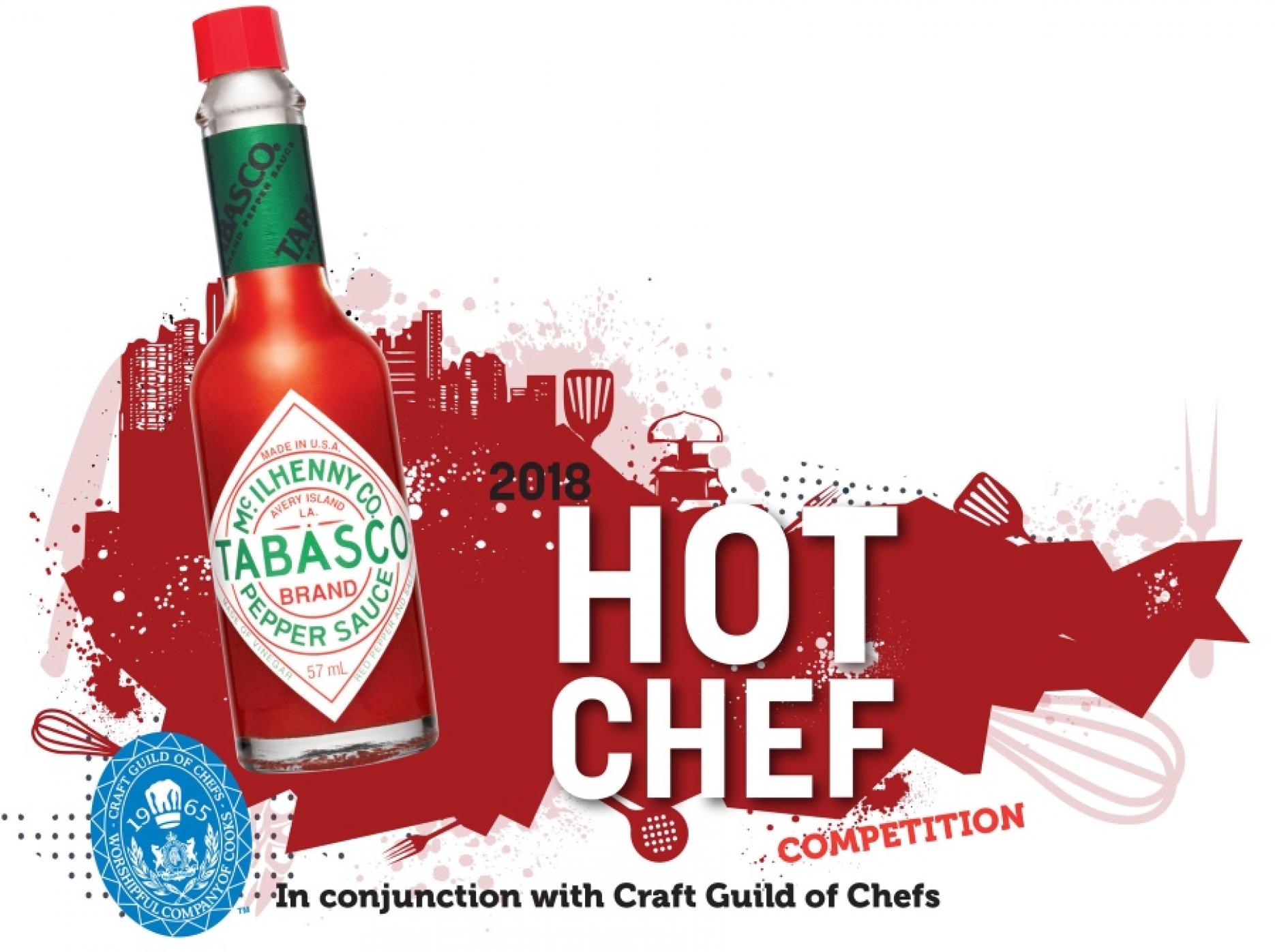 27th February 2018
Tabasco announces 10 Hot Chef finalists 2018
Tabasco Sauce has announced the 10 finalists going through to its 2018 Tabasco Brand Hot Chef competition.
Now in its sixth year, the competition is run in partnership with the Craft Guild of Chefs and open exclusively to student chefs across the country.
Tasked with cooking a starter and main course using Tabasco pepper sauces and suitable for a mainstream pub menu, the final will take place in front of a live audience during Hotelympia next week (6 February).
Competing to get their winning dish on Stonegate pubs and restaurants's menus across the UK as well as an all-expenses paid trip to Avery Island, Louisiana (where Tabasco Sauce is made), are:
Starter: Mackerel, pickled kohlrabi, beetroot and a Tabasco sauce gel
Main: Marinated chicken breast, pickled pumpkin, crispy cavolo nero
Starter: Tipsy sausage roll - apple, mushroom and Tabasco sauce sausage roll with apple and pear slaw
Main: Hunters pie with Tabasco chipotle sauce confit chicken
Starter: Tempura prawns with a Bloody Mary and Tabasco sauce mayonnaise
Main: Chipotle BBQ pork shoulder with sweet potato fries and chilli coleslaw
Starter: Seafood and Tabasco sauce cocktail with avocado mousse
Main: Fiery cheese burger
Vitor Sandro Cardoso Estradas
Starter: Ricotta and basil ravioli with tomato and Tabasco sauce consommé
Main: Spinach and pancetta wrapped loin of pork
Starter:  Duo of fish - Crab cake and marinated prawns on potato rosti
Main: Breaded cornfed chicken with Mornay sauce with gravy Tabasco sauce
Starter: Tabasco sauce tempura battered king prawns with a sweet chilli and chive Tabasco sauce dip
Main: Pulled pork with homemade BBQ Tabasco sauce, southern slaw in a savoury waffle
Starter: Hot smoked oysters, compressed cucumber and Tabasco sauce red vinaigrette
Main: Braised ox cheek, fermented cabbage, Jerusalem artichoke mousse with Tabasco Chipotle sauce, Tabasco sauce and ox caramel
Starter: Shrimp cocktail
Main: Tabasco sauce jambalaya served with honey and orange glazed chicken
Starter: Spiced smoked haddock, leek and Gruyere fish cake
Main: Slow braised Jacob's ladder with a smoked Tabasco chipotle sauce and four root mash
They will be judged on "flavour, creative use of at least one of the Tabasco pepper sauces and ease of service in a pub environment" by a panel comprising: chef and Guild member, Steve Munkley; Tabasco brand corporate chef, Gary Evans; Lee Tynan, development director Creative Foods Europe; Kevin Steppe, Stonegate Pub Company's director of food.