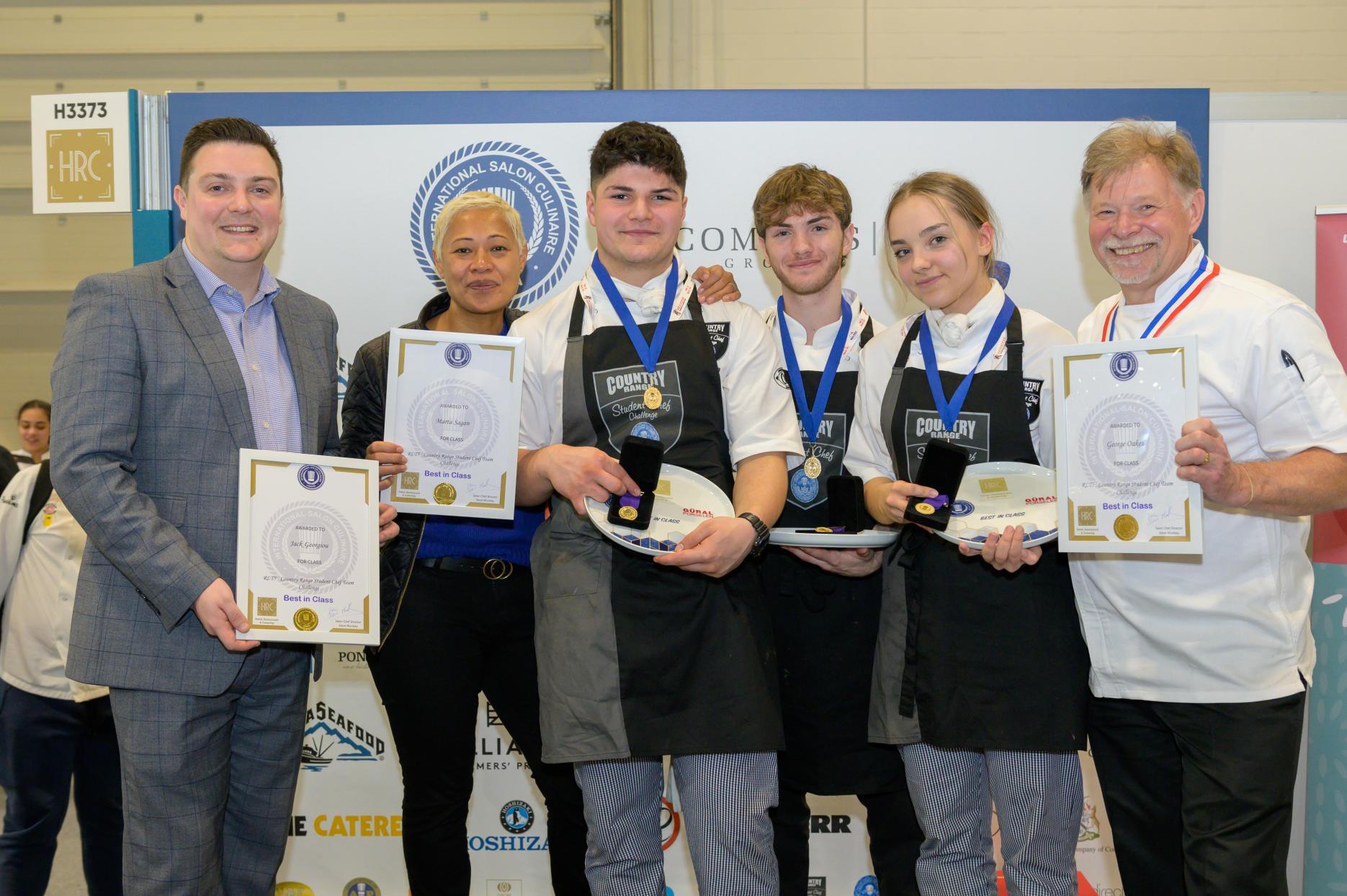 23rd March 2023
Westminster Kingsway College claims 2023 Country Range Student Chef Challenge title
A trio of promising young chefs from Westminster Kingsway College claimed the prestigious Country Range Student Chef Challenge title after winning the national final at the Hotel, Restaurant & Catering (HRC) Show.
Marta Sagan, George Oakes and Jack Georgiou triumphed in the live final under the watchful eyes of the Craft Guild of Chefs' judges with their flavour-packed menu, high-level cookery techniques and all-round teamwork and organisation.
The theme for this year's competition was 'Around the World', which encouraged the students to research different countries and be inspired by various ingredients, flavours and cooking techniques from across the globe. Mexico was the focus for the starter, Africa for the main, and Australia for the dessert. 
Westminster Kingsway College's winning menu consisted of: 
Starter: Deep Fried Guacamole, Guacamole Garnish, Leche de Tigre shot 
Main: Ras El Hanout Breast of Squab, Squab Pastilla, Chargrilled Tenderstem Broccoli, Ful Medames, Pomegranate Jus 
Dessert: Cherry Ripe Tim Tan
As well at the title the trio also won a Flint & Flame knife, an overnight stay and meal at a Michelin star restaurant and the opportunity to experience working at the same restaurant.  
lecturer of the winning team, Norman Fu commented: "I'm so happy and proud of the team for winning and I'm sure this is only the beginning for them as they are all very talented young chefs. It can be a pressurised kitchen to cook in with the audience and judges watching your every move but they handled it excellently and have been rewarded with the ultimate prize."
Students from Loughborough College came in second place, with the team from Ayrshire College claiming third spot. All the finalists were also graded by the Craft Guild of Chefs to international judging standards with Gold, Silver, Bronze and Merit certificates awarded.
The full list of Craft Guild of Chefs awards was awarded as follows: 
Ayrshire College – Silver 
Cambridge College – Merit 
Loughborough College – Silver & Team Competition Hygiene Award  
Westminster Kingsway College – Gold 
West Suffolk College – Merit 
Chris Basten, head judge of the Country Range Student Chef Challenge, added:  "A huge congratulations to the Westminster Kingsway College team on their victory in what was a highly competitive final.
"The judges were unanimous in their praise of the students dishes which were full of flavour, creativity and skill. To cook and present food of that quality under competition conditions in front of an audience is remarkable so all they should be really proud of themselves."