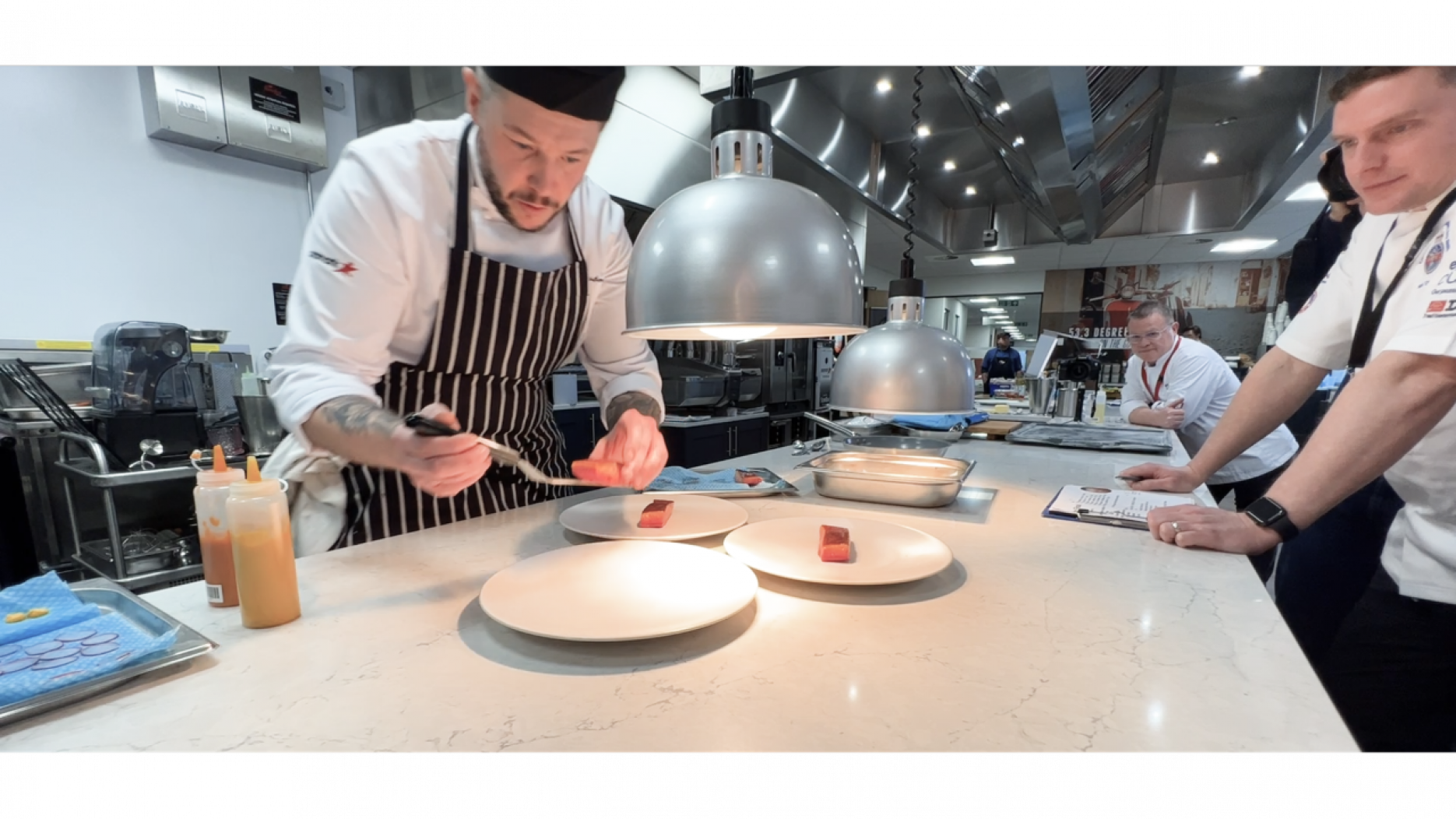 23rd March 2023
Aramark UK unveils Chef of the Year 2023 winner
After a day of 'outstanding culinary performances and fantastic food', head chef John Cudmore has been crowned the winner of Aramark UK's 2023 Chef of the Year competition.
The annual competition, which recognises the exceptional culinary talent within Aramark across the UK, saw seven Aramark chefs compete through a series of cooking challenges.
The final took place in Aramark's development kitchen at Farnborough headquarters where independently chosen finalists were invited to create a two-course meal. John created a beetroot sea trout brandade with sweet pepper chilli coulis, followed by caramelised rum pineapple, kiwi lime caviar and marshmallow sabayon for dessert.
Second place was awarded to Liam Davidson who is chef manager at Robert Gordon University in Aberdeen. Both John and Liam were praised for demonstrating an outstanding understanding of texture, flavour, layers, and colour to deliver culinary excellence.
Paul Bloxham, culinary director at Aramark UK, commented: "The Aramark Chef of the Year competition celebrates much more than fantastic food- it demonstrates the amazing capabilities of our colleagues. I am so proud that we are able to gather together as an organisation and share these experiences. I want to congratulate John and Liam and all the other finalists on their amazing creations."
John and Liam will travel to Chile, South America to represent the company at the Aramark International Chefs Cup in April.
John added: "I am honoured to have been awarded the title Aramark UK Chef of the Year 2023. As a chef, I am always looking for opportunities to be creative and I would like to thank the team at Aramark UK and Paul Bloxham for coordinating such an amazing event. Congratulations to all involved in this wonderful day of food showmanship. I'm looking forward to the next step of the competition."