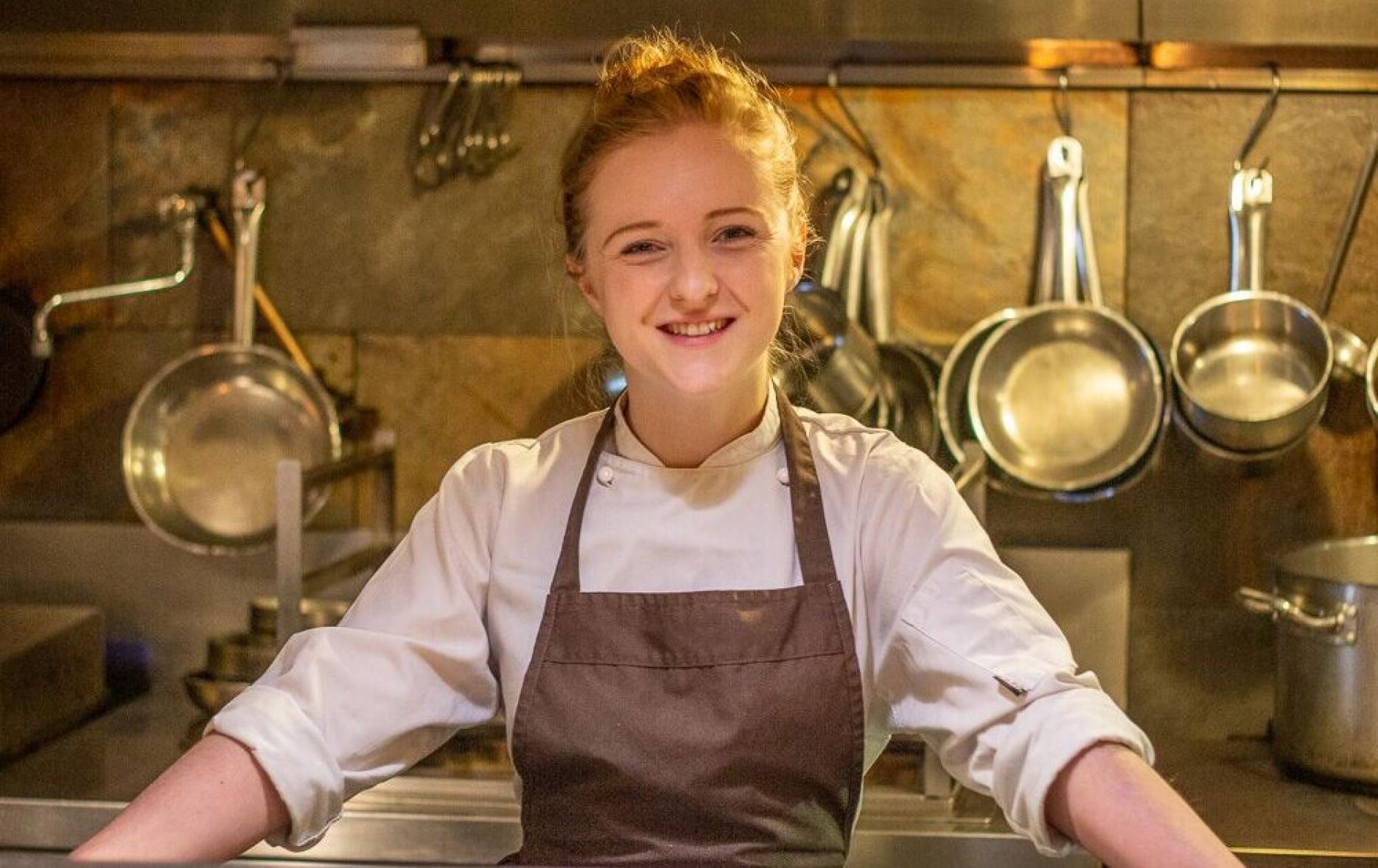 27th April 2021
Craft Guild of Chefs Careers Series – An Interview with Chef Amber Francis
This month we gain insight into the world of a young and inspiring senior sous chef. We spoke to chef Amber Francis about working at the Bermondsey Larder, challenges and responsibilities in the kitchen, culinary school, food memories and much more. Discover Amber's story.
Name: Amber Francis Job
Title: Senior Sous Chef at Bermondsey Larder
Craft Guild of Chefs title: Youth Ambassador Committee Member for Craft Guild of Chefs
Senior Sous Chef tasks(please note these might differ depending on establishments):
- Manages daily operations
- Supervises all food preparation and presentation alongside the head chef
- Leads kitchen team in head chef's absence
- Completes prep work, develops recipes and daily specials
- Provides guidance to junior kitchen staff members
- Oversees and organises kitchen stock and ingredients
Senior Sous Chef skills and qualifications:
- Most applicants should have formal culinary training
- Previous restaurant experience
- Extensive food and beverage knowledge
- Strong organisational skills
- Attention to detail
- Ability to work under pressure
- Strong verbal and written communication skills
Did you know? - Senior sous chefs often have the highest responsibility of all chefs and are regarded as the executive chefs' right-hand. - Most senior sous chefs start as line cooks out of school and work their way into supervisory or kitchen-management positions.
Q: Amber, you are the senior sous chef at the Bermondsey Larder, a mental health champion for Kelly's Cause, Youth Ambassador for Craft Guild of Chefs, and a culinary lecturer. How do you manage all this workload?
Simply put, I love what I do. When I first started, I couldn't say 'no' to any opportunity that would allow me to grow and develop my skills. I used to take up so many projects, but I don't regret it as it paid me back tenfold. I remember training for two competitions and working at The Ritz at the same time, but it was worth it as I gained experience and met new people.
Any job in the hospitality industry is full-on, with long hours, but at Bermondsey Larder we manage to strike a work-life balance. We are closed on Mondays and Tuesdays which allows us to have consistent days off and plan accordingly.
This last year has shown me that although I enjoy working in a high paced, high-pressure environment, it is important to slow down every now and then.
Q: Tell us more about the Bermondsey Larder and your role.
I started as a chef de partie at The Dairy in Clapham, which was the first restaurant within the company to open. I stayed there for two years and worked my way up to sous chef. We were all extremely sad when they had to close the Clapham site due to the first lockdown. I have very special memories as The Dairy was a small but unique place and a big part of the local community.
Bermondsey Larder opened last year in September, and it was an amazing opportunity to be a part of the opening. I remember how we clicked back as a team during our first service at the Bermondsey Larder, it didn't matter that we hadn't worked together in several months. We just fell into sync again. We were also fortunate enough to gain amazing feedback in our first few months of opening.
We are five chefs in total and a couple of kitchen porters, who are heroes – we could not run the kitchen without them. I am the second youngest and the only woman in my team, we all come from different culinary backgrounds. Some of us are formally trained, while others have hands-on experience. It is so interesting to see the dynamic and the creative process.
Besides preparing the dishes alongside my team, some other responsibilities include assisting the Head Chef with menu items, liaising with suppliers, supervising kitchen stations, and running the daily team briefings.
At the former site, The Dairy, we used to change the menu almost daily, at the Bermondsey Larder we have a little more structure, but plenty of room for creativity! We still work closely with local suppliers to ensure the best quality products, which are also good for the environment.
Q: Describe your typical day at the Bermondsey Larder
I turn up early and unlock everything. We then collect the overnight deliveries, store and arrange them. After opening the kitchen up, we have breakfast as a team and a morning briefing where we discuss plans for the day, what went well the previous day, what ingredients arrived, concerns and ideas. After the morning briefing, we start getting all the mise en place set for lunch service.
At the Bermondsey Larder, we are each responsible for our sections and we help each other too. The day continues with a pre-lunch briefing where we run through the menu, discuss new dishes and take any questions from the team. In no time, it is already lunchtime and a big buzz.
In the afternoon, we would have staff dinner and a break, before heading back into the kitchen prepping for the evening service. The day finishes with a thorough clean of the kitchen and making sure everything is stored away. I would talk to suppliers and debrief the team. After that, sleep and repeat.
Q: What are the pros and cons of working with such a young team of chefs?
I do not see any cons as I think we work very well together. One of the biggest pros is that we all learn from one another on a daily basis. It is passion and love for our job that drives the team. The owner is also very supportive, and he teaches us a lot.
Q: How would you react if something goes wrong during service?
To me, it is important to communicate with your team and help one another. Mistakes happen, and you have to use it as a learning experience. Nobody purposefully makes errors, but we all do now and then.
The important thing is to ensure that lessons are learnt from it so that it doesn't happen again. It is so important to keep a calm attitude and not be upset with your team.
At the end of the day, we all love food, we all want to learn and do our best. Should you do something wrong, my advice is always to have patience with yourself and learn from your mistake.
Q: When did you realise you wanted to become a chef and what was your journey?
I think 90% of my childhood memories involved food, and I was lucky to grow up in a family passionate about different cuisines. When I was very young, I did a cooking class with a local chef who really encouraged me to take my passion and pursue a rewarding career in the food industry.
I was still unsure about whether I should pursue a more vocational career or if I should go to university and study languages, my school very much encouraged the latter. But with the never-ending support of my parents I took the plunge and followed my heart. I trained on the Royal Academy of Culinary Arts Scholarship programme with Bournemouth and Poole College. It was important to me that if I chose this career path, I should get everything out of it and give my very best.
I would encourage any young aspiring chefs to look into this course, as it is a perfect blend of placements and training courses. The block release works very well, the environment is supportive, and enables students to have an easy transition from education to the workplace. During my formal education, I learned all the classic techniques and culinary basics. For my placement, I worked at The Ritz where I had the first taste of life in a kitchen.
In the beginning, The Ritz was daunting – everything had its place and perfection was key, but with the right mindset, you soon settle in. I remember the restaurant gaining a Michelin star during my time there. It was a truly special day, and one which I will always remember. You need so much focus and determination to gain a star, both as a kitchen team but also the determination and grit of all the individuals.
Q. How would you describe your cooking style? What are your favourite ingredients to work with?
I am at the stage where I am constantly developing and learning. I know what is important to me though, and that is cooking food that is accessible and makes people happy. I want to show my skills, while using local, seasonal produce.
My favourite ingredients are simple but delicious and change with the seasons. Right now, I love British peas, rhubarb and wild garlic.
Q: Who would you like to have as a mentor?
Robin Gill has become a great mentor to me over the last few years. But what is remarkable is that the whole hospitality industry is hugely inspiring. I see it as a big family, where we all want one another to learn, achieve and do well.
Q: Any plans for 2021 or big projects?
I am looking forward to hospitality being able to resume. It's been heart-breaking to see the industry struggle so much over the past year. I cannot wait to see our guests again and the public enjoying everything that restaurants, cafes, hotels and bars have to offer.