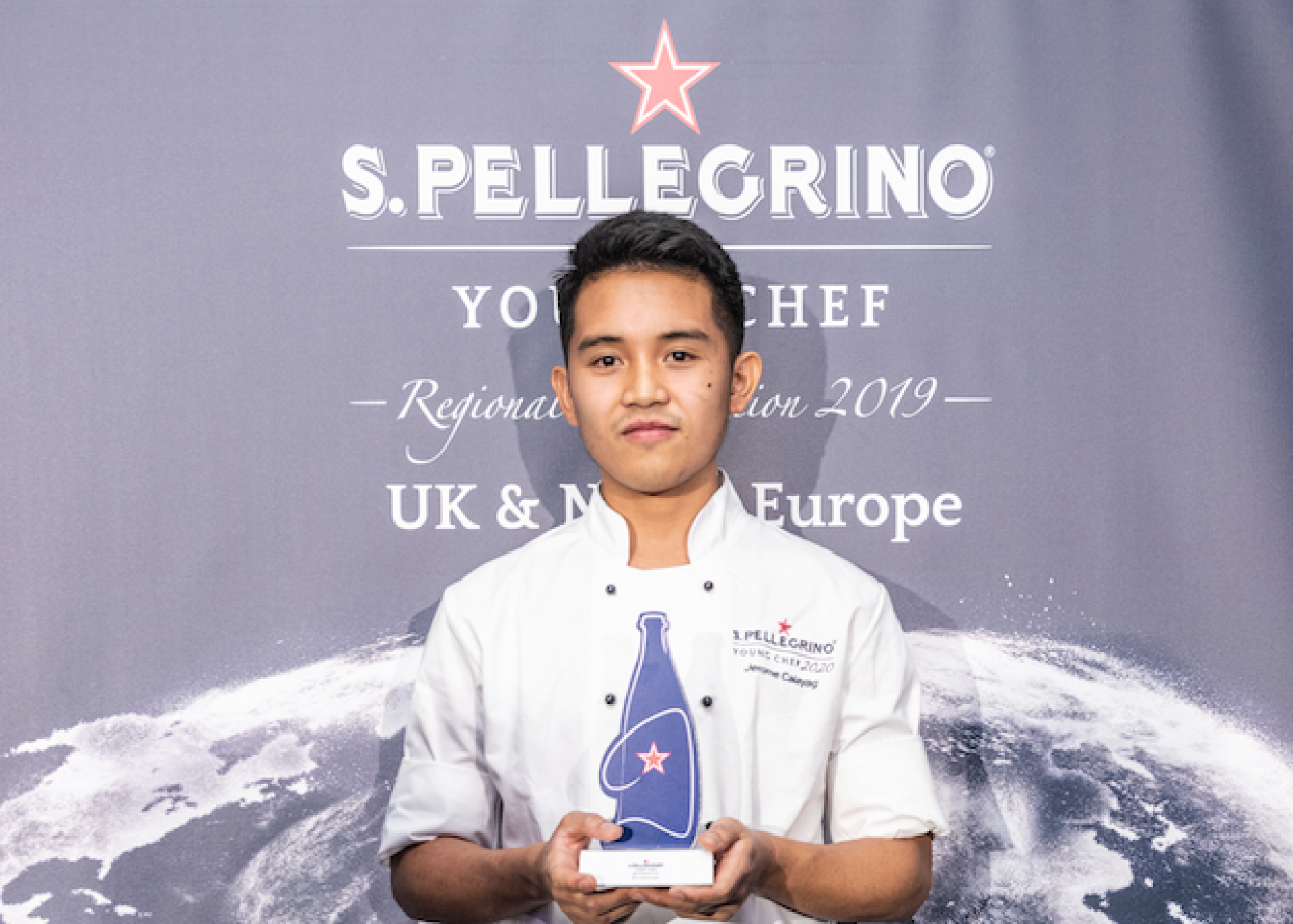 13th November 2019
Jerome Calayag announced as winner of the S.Pellegrino Young Chef Regional Semi-final
Jerome Calayag of The Ledbury (Sweden) was named the winner of the S.Pellegrino Young Chef Regional Semi-final and will represent UK & North Europe at the Grande Finale in Milan on 8-9 May 2020.
Calayag won the judges over with his signature dish, Humble Vegetables. He said: "I am very excited to represent the UK & North Europe in Milan next year at the global final of the S.Pellegrino Young Chef Competition.
"I've spent a lot of time preparing for this evening and I'm grateful for all the support I have received. I'm looking forward to seeing where this competition will take me next."
There were 2,400 applicants from all over the world for the S.Pellegrino Young Chef of the Year 2020, with 135 chefs advancing to the regional semi-finals. The percentage to women registered among the candidates increased to more than 10% for this year's competition.
To reflect S.Pellegrino's belief and support of the transformative power of gastronomy and its impact beyond the kitchen, the following three awards were introduced:
Timothee Martin-Nadaud (UK) with his signature dish, The World Is Your Oyster won the Acqua Panna Award for Connection in Gastronomy. The winner of this award produced a dish that represents diversity and recognises the beauty of different cultures coming together to create something fresh and exciting. The regional mentors, who were present to assist the 15 young chefs, voted this for.
Nicolas Fagundes Galindo (Ireland) with his signature dish, Flavours And Textures Of Palm And Ox Tongue won the Fine Dining Lovers Community Award, which was voted for by the online Fine Dining Lovers community. This award was for the young chef who best represented their personal belief within their dish.
Pippa Lovell (UK) with her signature dish What She Found won the S.Pellegrino Award for Social Responsibility. Voted for by Food Made Good, the internationally recognised voice on sustainability in food, this dish represented the principle that that food is best when it is the result of sustainable practices.
Calayag won the S.Pellegrino Young Chef Award after he impressed the seven members of the regional jury. The regional jury consisted of Monica Galetti of Mere (UK); Adam Byatt of Trinity (UK); Brian Mark Hansen of Søllerød Kro (Denmark); Frida Ronge of TAK (Sweden); Estée Strooker of Amusement (Netherlands); Jess Murphy of Kai Café and Restaurant (Ireland) and Bjorn Svensson of Galta (Norway).
All of the winners of the additional three awards will join Calayag at the Grande Finale on 8-9 May 2020.
The 2018 UK & Northern Europe finalist, Killian Crowley, created a four-course celebratory dinner to mark S.Pellegrino's 120th anniversary. The Young Chef competition aims to discover and promote the next generation of culinary talent.