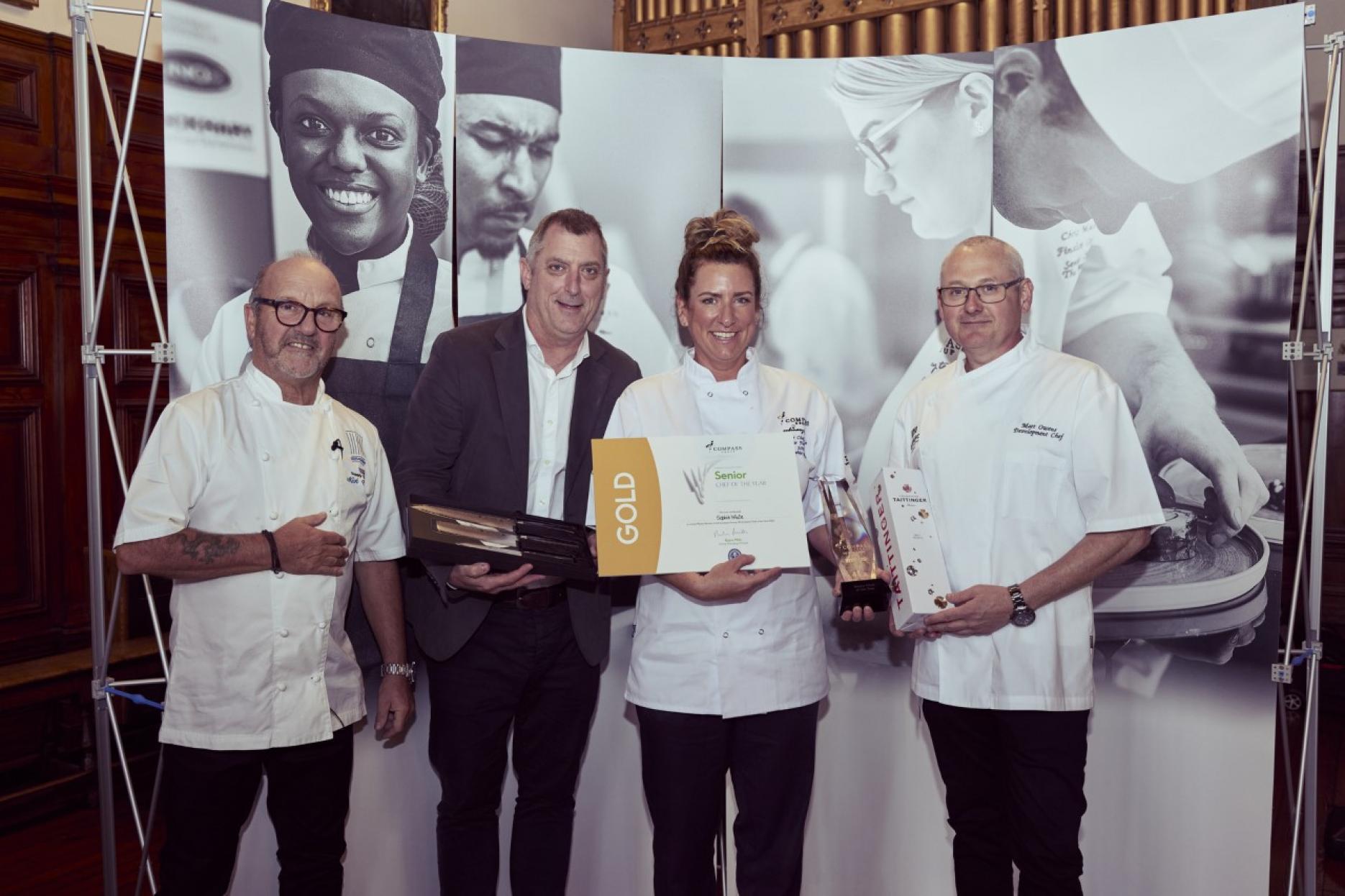 28th October 2022
Chartwells Independent chefs win young and senior Compass Chef of the Year competitions
Held at Christ's Hospital School in Horsham, chefs from across Compass Group UK & Ireland competed to be awarded the coveted titles of Senior Chef of the Year and Young Chef of the Year.
Over the last six months Compass has run a series of regional heats around the country, which has seen over 40 chefs showcase their talents in an effort to reach the final.   
Reflecting Compass Group UK & Ireland's ambition to achieve Net Zero by 2030, the event had sustainability at its core. All waste was measured and checked to ensure it was kept to an absolutely minimum and seasonality of the dishes was key. All competitors had to produce one plant-based course of their choice as well.
Finalists in the Senior Chef of the Year prepared three dishes in just over two hours. Sophie White, from Chartwells Independent, impressed the judges with her three dishes – including a plant-based starter with tempura shiitake mushrooms, a main course of stuffed Pork fillet followed by a sticky toffee pudding with macerated blackberries to secure the gold.
She said: "It's a huge honour to win this award, which was made all the sweeter winning at my home kitchen at Christ's Hospital. I'm incredibly proud of my job, and passionate about serving fantastic food that isn't just great in a school setting, but that stands up on its own against the best from across the business.
"I've been perfecting this dish, with the help of the amazing team from Chartwells Independent, and support from Compass' Women in Food community. I'm delighted with my performance on the day and look forward to entering more competitions moving forwards."
White is the first female chef to win the coveted prize of Compass Chef of the Year, demonstrating the company's ongoing commitment to support the development of female chefs. Faye De Souza, from Restaurant Associates (a previous Young Chef of the Year winner) secured silver and bronze went to Bruce Morrison from ESS Energy.
The competitors had to impress Judges Matt Owens, chairman of the Craft Guild of Chefs; Simon Stocker, chef consultant and past senior lecturer of Culinary Arts, Westminster College; and Robert Brown, menu and recipe manager Compass Group.
The Young Chef of the Year finalists were required to prepare two dishes - a starter and a main course in two hours. Charles Winter, Chartwells Independent, impressed the judges with his main course dish of compressed mushroom which clinched the gold and full marks from all the judges. Rachel Michie from ESS was awarded silver and the bronze went to Chartwells Independent's Nathan Brown.
Commenting on the wins Nick Vadis, Compass Group UK & Ireland culinary director, added: "This is our 25th Compass Chef of the Year and every year I continue to be impressed by the creativity and skills our chefs show. They always rise to the challenge. Competitions are a great way to truly test what you have learnt and what you are capable of. The competition generates so much excitement within our culinary community and I would like to congratulate everyone who took part. They should all be really proud."
Compass Group UK & Ireland will be sending a team of chefs to compete this year in the Culinary World Cup in Luxembourg in November.