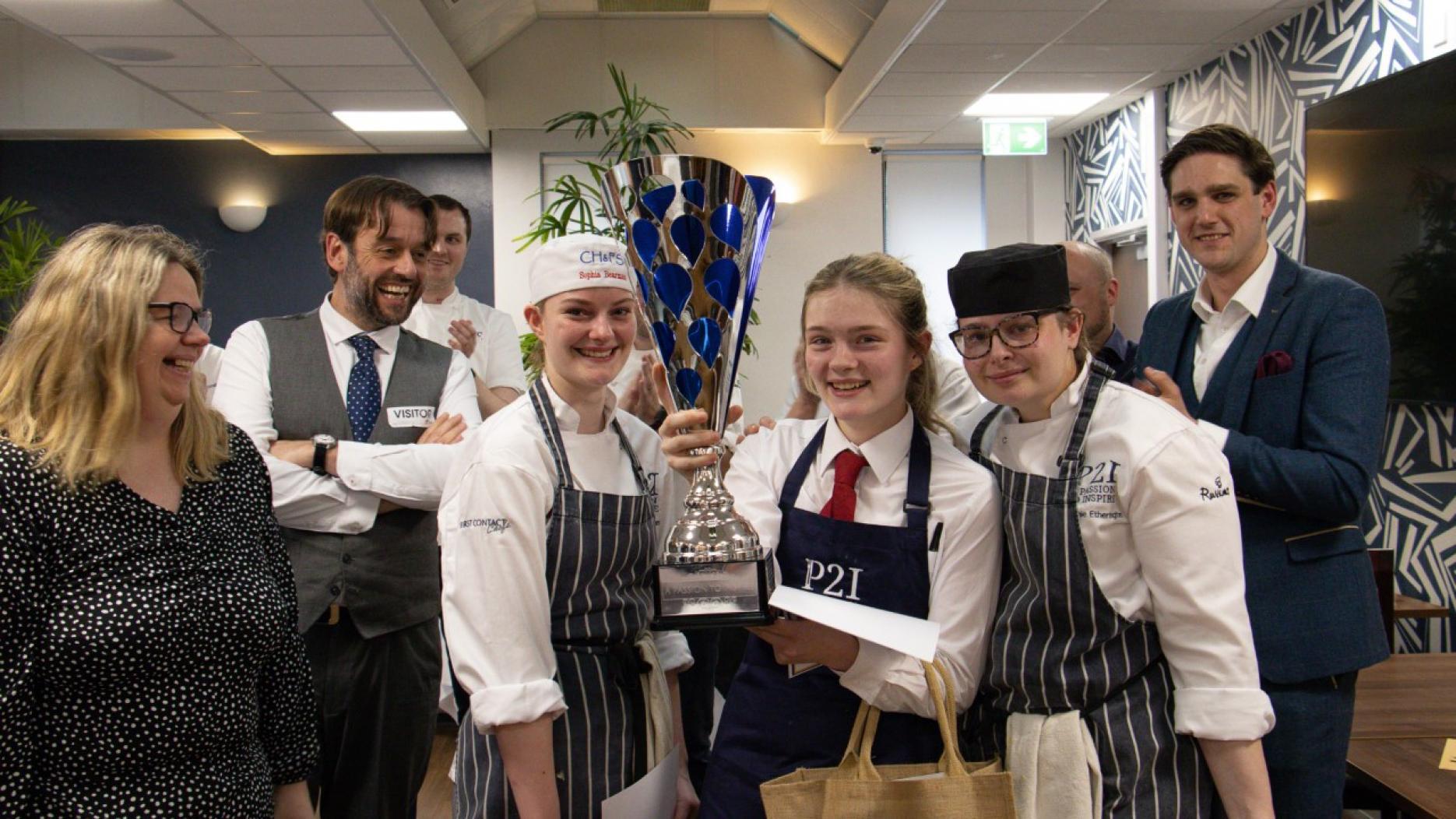 24th March 2023
Colchester Institute wins A Passion to Inspire 2023 competition
Trio of chefs Sophia Bearman, Stephanie Etherington and Jess Hornsby from Colchester Institute won the A Passion to Inspire 2023 competition.
Colchester Institute, Suffolk New College, Cambridge Regional College, West Suffolk College, City College Norwich and New City College Hackney competed in the final.
The Colchester Institute winning menu included:
Starter: Baron Bigod, pea & asparagus tart, pea & truffle purée, Barons Lane rosé 2021, New Hall Wine Estate, Essex
Main course: Roasted rack of Dingley Dell pork, pommes Anna, roasted baby vegetables, black pudding stuffing, sauce Robert, 'El Compadre' Pinot Noir 2019, Vallede Malleco, Viña Echeverria
Dessert: Passion scented spheres, shortbread crumb, compressed mango, Verbena Spritz cocktail
Winning lecturer Stephanie Conway, said: "I would like to personally thank everyone involved for the competition I understand it is always much easier when things have gone well."
The chefs from Colchester Institute won:
Four places on a special trip to Lyon courtesy of Grand Cuisine
Meet culinary legend Marco Pierre White and other chefs Sally Abe, Henrique sá Pessoa, Andrew Gravett, and Luke French at the Skills For Chefs Conference
Chefii knife rolls from Jazz
Mark Poynton's Great Culinary Journey with his new cookbook
The judges included Mark Poynton, Bradley Dorrington, Nick Mills, Greg Anderson, Eric Snaith, Buzz, Nick Claxton Webb and Ed Keith.
Poynton added: "So very proud to be part of a magnificent line up of talented young people. The Aptitude and attitude of the all the finalists was simply amazing their work ethic and teamwork stunning. It was a hard day judging my taste buds had a fantastic day and all the skills on show in the kitchen and service were wonderful.
"As Murray Chapman said he was so happy not to be a judge we want to support all students simply Magic so proud of them and going forward I cannot wait until our next culinary Adventure 13th June with chef Cyrus and chef Cherish Finden."