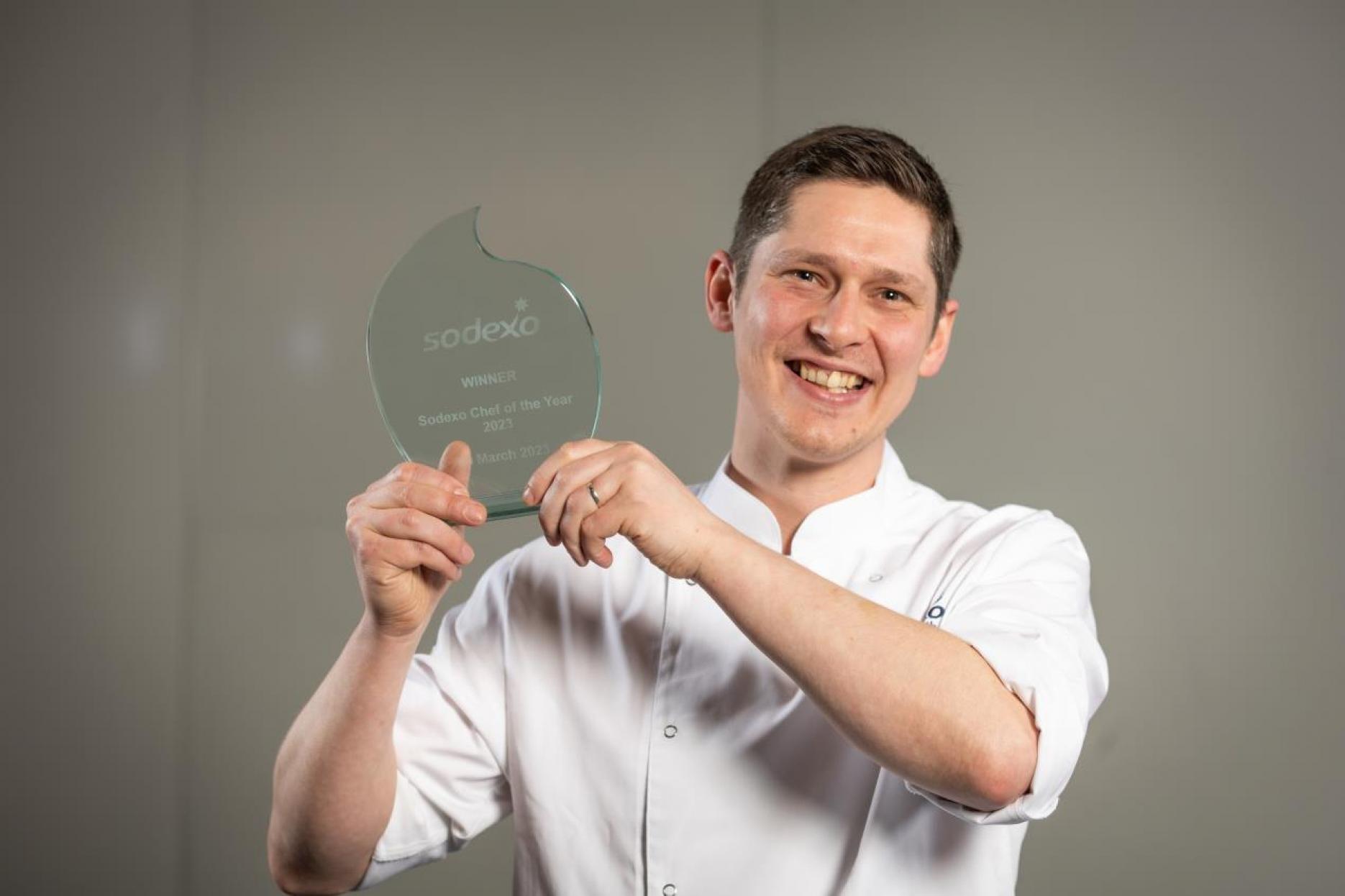 22nd March 2023
Sodexo reveals 2023 Chef of the Year winner
Hospitality chef Adam Smith has been named Sodexo Chef of the Year 2023 following a live cook-off at Hotel, Restaurant, and Catering (HRC) event held at ExCeL London.
Adam Smith, a hospitality chef for Independents by Sodexo, competed in the final of the annual competition which saw eight of Sodexo's chefs go head to head in a 90 minute live cook-off final. The chefs were tasked with creating their dishes with the minimal amount of food wasted. 
The competition focussed on sustainable eating with chefs tasked to create three dishes each with a different criteria, including:
Starter: One vegetarian/vegan dish using two or more ingredients from Future 50 Foods
Main: British/Irish chicken suitable for a chef's special or brasserie style
Dessert: A classic fruit crumble with a twist using fresh rhubarb
Adam's dishes made a Hawaij spiced cauliflower, pickled red cabbage, red lentil dahl, smoked paprika onion fritter. For main course he created a beer-glazed chicken breast, confit onion chicken ragu, smoked garlic mash, sweetcorn puree, charred hispi cabbage. For dessert he produced a custard tart, rhubarb compote, caramelised white chocolate crumble, rhubarb sorbet.
Adam's prize includes an all expenses trip to Venice courtesy of sponsors UNOX and an exclusive fine dining experience in London courtesy of sponsors Lockhart. 
The two runner ups were Anthony Dye and Ashley Bax, both chefs in Sodexo's Corporate Services business. Ashley was also awarded the safety award for demonstrating safe working practices. 
The competition judges included top culinary names such as Steve Scuffell; Martyn Nail; Henry Bosi; Adam Smith (Coworth Park, Ascot); Paul Gayler; Yolanda Stanley and Sarah Hartnett. 
All eight finalists received a year's membership to the Craft Guild of Chefs in addition to a special finalists' chef jacket and certificate. 
David Mulcahy, food innovation & sustainability director at Sodexo UK and Ireland, said: "Every year our chefs put their all into the competition and we want to thank them all for the time and effort they took to enter. Judging all the entries is always difficult when you have such a high calibre of chefs across the business. The eight finalists did exceptionally well to reach the final and they all excelled on the day.   
"The pressure of a live cook off at an industry event where they have to perform at their best in front of not only some highly skilled and successful chef judges but in front of their peers too is something that will put them in good stead for future competitions as well as their day-to-day jobs. We are proud of all our finalists but huge congratulations to Adam for taking the title of Sodexo of the Year 2023."