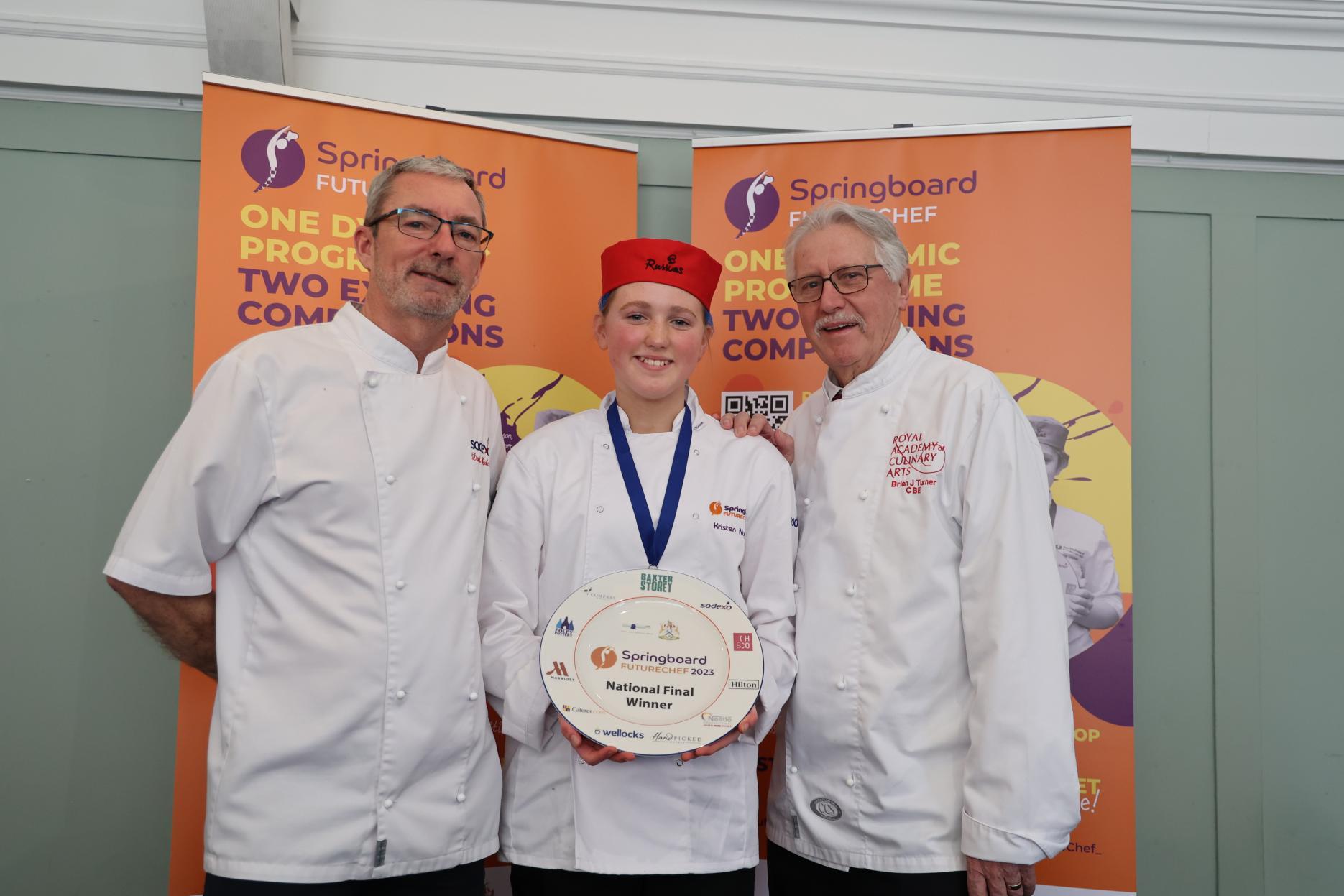 15th March 2023
Springboard names FutureChef 2023 winner
Kristen Nugent, a 15-year-old from Killeeshil in County Tyrone, has been crowned the Springboard FutureChef 2023 winner following a final at Westminster Kingsway College in London.
The final saw 12 up-and-coming young chefs from across the UK battle it out to be crowned champion in the annual competition hosted by hospitality charity Springboard.
Competitors had 2 hours and 45 minutes to prepare a main course and dessert for a panel of industry-leading judges, including Adam Handling, Nieves Barragan Mohacho and 2023 Craft Guild of Chefs National Chef of the Year Ben Murphy.
Kristen impressed judges with her smoked and poached rainbow trout, citrus cured rillette, hens' egg, chive mash, soused vegetables and herb butter sauce along with her rhubarb, vanilla panna cotta, granola crunch crumble and maple dessert.
Commenting on her victory, Kristen said: "It was absolutely amazing and so unexpected. The first hour went slightly sideways but I stepped back, took deep breathes and after a 30 second break I got myself back together and it went really well after that
"It has been a whirlwind experience competing in the FutureChef competition – and it is amazing to see the hard work finally pay off. The support and guidance I have received from my mentor James Devine, has been instrumental in my success. I am more passionate than ever about pursuing a career in hospitality and I cannot wait to see what the future holds and the opportunities this will unlock."
Aiming to find the UK and Ireland's next generation of culinary talent, Springboard FutureChef is a school-based programme that supports the development of life skills while inspiring young people to pursue an exciting career within the world of hospitality.  
The schools-based competition, which is now in its 24th year and has seen more than 214,000 young people aged 12-16 take part, supports the development of culinary and life skills while inspiring young people to pursue an exciting career in hospitality.
After winning her regional heat in Northern Ireland, Kristen worked with Dungannon-based mentor chef James Devine, to hone her skills in preparation for the FutureChef final.
Devine added: "It has been a pleasure to see Kristen grow over the past few months – her confidence and knowledge have skyrocketed. Competitions like FutureChef really help the next generation explore their passions and it is exciting to see the next generation of culinary superstars developing and experiencing success already."